Gopal Burgher Speaks on CLE Panel Discussing Social Media & the SEC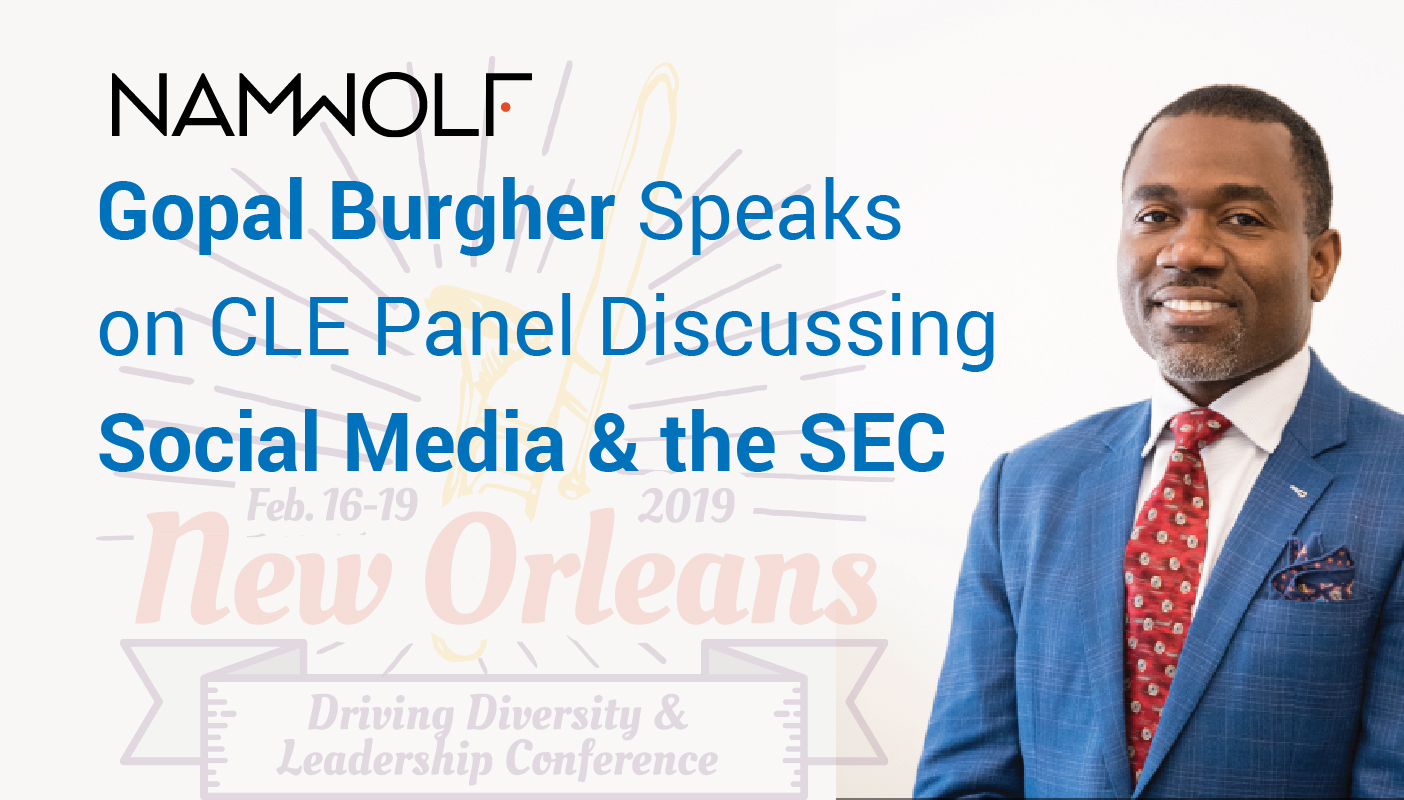 Gopal M. Burgher spoke on a CLE panel at the 2019 NAMWOLF Driving Diversity & Leadership Conference in New Orleans, LA on February 18th. The CLE was given by the NAMWOLF Financial Services Litigation Practice Area Committee of which BurgherGray is a member. 
Description of CLE:
Financial Services Litigation Practice Area Committee CLE: How to Enrage the SEC Whilst Tweeting Stoned (Allegedly): Social Media and the SEC
This program will identify the situations in which the use of social media may draw the watchful eye of the SEC.  First, we will briefly identify the primary statutes and regulations under which the SEC has considered social media and pursued actions –Regulation FD, the "Testimonial Rule" under the Investment Advisers Act, and Section 10(b) of the Exchange Act and Rule 10b-5 thereunder.  Second, we will examine the limited guidance provided by the SEC concerning social media usage, which is most extensive in the context of Regulation FD and the flurry of actions against investment advisers for alleged violations of the Testimonal Rule.  Third, we will discuss the intersection of social media and the Exchange Act's broad antifraud provision – Section 10(b) and Rule 10b-5.  This will include a brief discussion of the purpose of the provisions, the elements of the claim, and the SEC's wide-ranging investigatory and enforcement authority.  We will then dive into a discussion of the application of these principles to social media, using the colorful Tesla complaint and subsequent settlement as an example and starting point for hypotheticals to illustrate key principles and elements of these claims, such as materiality and scienter.   Finally, we will discuss practical recommendations for in-house counsel to utilize to create or update their company's social media policy. 
Panelists:
Jennifer Novoselsky, Reyes Kurson
Julie Moran, Orlans P.C.
Gopal Burgher, Burgher Gray, LLP
Sharonda Mills, Wyndham Destinations
Kris Keys, Exelon Corporation

1350 Broadway | Suite 1510
New York, NY 10018
T: 646.513.3231 | F: 646.561.9866
info@burghergray.com
This website contains attorney advertising. Prior results do not guarantee a similar outcome | Copyright © 2020. All rights reserved. Terms & Conditions and Privacy Policy