Dan Clausen, BurgherGray's Head of Investment Management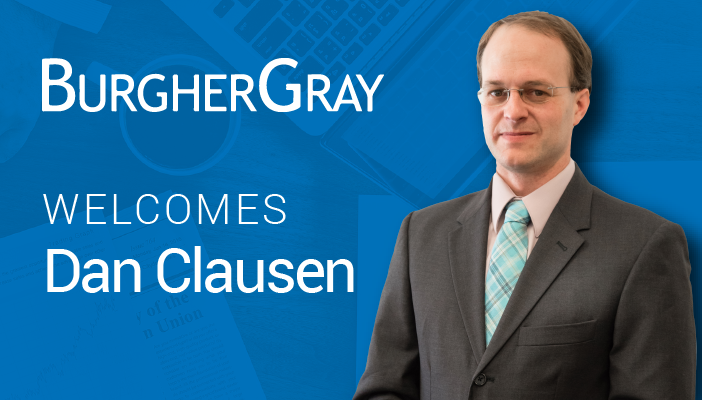 We are pleased to announce that Dan Clausen has recently joined BurgherGray LLP as Head of Investment Management. Mr. Clausen has a decade of legal experience working in a large corporate law firm as a trusted legal and business advisor. Mr. Clausen will leverage his experience for the benefit of his clients to solve complex business and legal challenges with strategic simplicity.  
Mr. Clausen focuses his practice on investment management.  As such, he advises fund sponsors on the structuring and formation of private investment funds, including hedge funds, private equity funds, hybrid funds, debt and loan origination funds, fund-of-funds, single investor funds, and separately managed accounts.  Dan also advises clients regarding their ongoing fund investment and other activities, including fund restructurings.  His experience with fund investment strategies includes long/short equity, private debt, middle-market direct lending, natural resources and solar energy credit investing, among others. 
Mr. Clausen is excited about joining BurgherGray. "I was looking for a firm that emphasized excellent client service along with a pragmatic, business-oriented approach to legal advice – BurgherGray fits that criteria" noted Mr. Clausen. "My investment management practice is a good strategic fit for the firm. I look forward to being able to leverage my expertise to grow the investment management practice alongside the firm as a whole."
Mr. Clausen also counsels fund clients in connection with the establishment of investment adviser management companies and related ongoing regulatory and compliance matters, including investment adviser registration and development of internal compliance policies and procedures. In addition, Dan represents investors seeking to invest in private investment funds, including in connection with the review and analysis of fund terms and the negotiating of side letters. He also represents business development companies (BDCs) including, among other things, advising on SEC registration, ongoing SEC filings and compliance with the Investment Company Act. He advises both boards of directors and fund management of BDCs.
Prior to joining BurgherGray, Dan was a senior associate attorney in the Financial Services Group at Dechert LLP (New York), where he practiced for approximately 10 years.

1350 Broadway | Suite 406
New York, NY 10018
T: 646.513.3231 | F: 646.561.9866
info@burghergray.com
This website contains attorney advertising. Prior results do not guarantee a similar outcome | Copyright © 2018. All rights reserved. Terms & Conditions and Privacy Policy