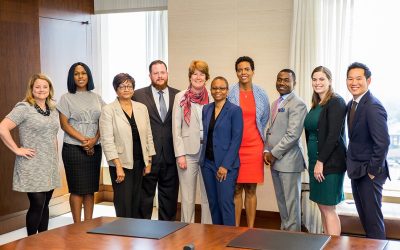 Left to right: Sarah Bridges, Sheuvaun Vernon (BurgherGray), Nancy Chambliss (Harrell & Chambliss), Thomas O'Dea, Amy Williams, Sandra Honegan-Pounder (BurgherGray), Rudene Haynes, Gopal Burgher (BurgherGray), Natalie Mariani and Freddy Chang. New York, NY. – June 7,...
read more
OCIE issues Risk Alert flagging issues in investment adviser advertisements
The SEC's Office of Compliance Inspections and Examinations ("OCIE") released a Risk Alert in September 2017 pertaining to investment adviser advertisements. Advisers are prohibited by Rule 206(4)-1 of the Advisers Act…

*COMING SOON* The BurgherGray Spotlight. This quarterly email newsletter will contain a variety of resources and legal news. Check back soon to see the first issue, or signup using the form here to get the first issue via email.

1350 Broadway | Suite 406
New York, NY 10018
T: 646.513.3231 | F: 646.561.9866
info@burghergray.com
This website contains attorney advertising. Prior results do not guarantee a similar outcome | Copyright 2018-2019 ©  All rights reserved. Terms & Conditions and Privacy Policy